We have been super busy lately, but haven't really had anything exciting going on. Hence, the lack of blog posts. This will be my attempt to catch up because I know how exciting keeping up with our lives is!!! :)
First, Will is 13 months old now. He's got 6 teeth, says mama, dada, bye, and the other night he said Bible! Awesome! I show him the Bible everyday and sing him a little song. He loves it. He is walking and loving every minute of it. He is in to everything. Just the other day we wised up and put child locks on all of the kitchen cabinets (best thing we have ever done). When Will realized that ALL of the cabinets were locked, he threw a fit (and I mean a HUGE fit, like we had ruined his life fit). He's getting pretty good at that now, especially when he hears that ever dreaded word, NO! We like to call him the Tasmanian Devil. He moves through the house like a little tornado, wreaking havoc on anything that gets in his path. He has learned how to flush the toilet and loves to do it every chance he gets. That shoe made it into the toilet.
The other day I was sitting at the table reading the paper and Will was playing in the laundry room. A few minutes passed and I noticed that I hadn't heard much out of him. I looked up from the table and into the laundry room and Will was gone.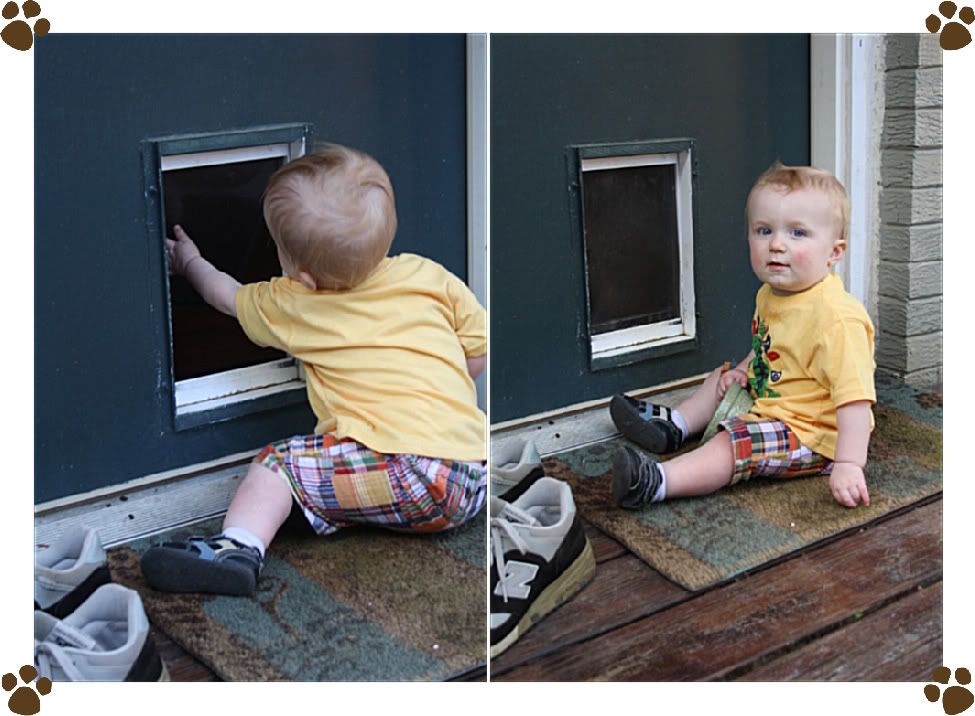 He was on the back porch....had made his way out the doggy door, with the dog's food bowl. You'll notice it in his right hand in the picture above...TAZ (that's how I'll be referring to our little Tasmanian Devil) He has since made it out several more times. The other day I was putting laundry in the washing machine and Taz crawled right on out, in the POURING RAIN! He didn't care.
Which brings me to my next point...Will loves the bath, SOLO. You put anyone else in there with him and he throws one of those "you are ruining my life" fits I was talking about earlier.
Taz has become quite the climber. He goes up and down the porch stairs and has discovered the dog stairs that lead up to our bed. He favorite place to play is on our bed. He loves to jump!

Lately the weather here has been beautiful. Our local BBQ festival, Whistle Stop, is in a few weeks. Some of our best friends have a team, "Why You Grilling Me Dog?". We have been spending most of our Saturday nights grubbing on some good BBQ in preparation for the big festival! Good Luck Guys!
In fact, one Saturday night, after being gone only 3 hours, we came home to a missing dog. Remy was gone. He went out under the house again. We THOUGHT we had shored up all the holes so he couldn't get out, but NO...Remy squeezed his little butt through this.....
I wish I could have seen that.... The first time he got out he ran because he was scared. You'll remember from here http://rldclark.blogspot.com/2011/01/remy.html. This time, he had no reason, so I was MAD! We looked for about an hour, but decided to call it a night and head to bed. About 11 Pat thought he heard something and got up to check it out. Low and behold, there was Remy, on the front porch, scratching his ear. He is also a Tasmanian Devil. :) He ended up sleeping on my pillow that night and snored the whole night. OH, How I Love My Dogs!!!!

Pat has been hard at work on his BABY.....Doris, the car. That's right, his car has a name. She's named after his late mother who probably thinks he is nuts! Just kidding. I'm the one that thinks he's nuts.



I actually read a book the other day! I started it on Sunday and finished it the very next day. Such an easy read and a great story. It was refreshing to read this sweet story about a child's faith. Highly recommend it to anyone!
I am also in full training mode for the Nashville Half Marathon. This will be #2 and I am super excited! It's on April 30th. I've only got 2 weeks left. Wish me luck. I'll let you all know how it goes.
Spring Break was this past Wed-Friday. We lost two days because of snow. Pat took off Thursday and Friday and we spent most of our time working in the yard. I have to say, it is looking pretty good! I will have to post some pics soon. We were also able to enjoy a nice lunch at a local place by ourselves! Oh, the little things in life that make us so happy.
I guess that about sums up the last few weeks of our lives. Nothing exciting. We're just enjoying Will and all the fun we are having with him. Look for more posts in the coming weeks. Pat and I have a great life and we are loving every minute of it! God is Great and is blessing us daily, with more than we ever knew was possible. We are excited for what the future holds!










Love to you all,